Autism Spectrum Disorder (ASD) is a neurodevelopmental disorder characterized by impaired social interaction, delayed and disordered communication skills and isolated areas of interest. There is a growing appreciation that ASD is more complex than previously recognized and in many cases, involves multiple organ systems beyond the brain. Those affected require intensive therapeutic services as well as skilled medical diagnosis and supervision. This presentation describes a multidisciplinary clinical model in which the many services and interventions needed by ASD patients can be provided in a single site, thereby reducing fragmentation of care and providing skilled diagnostic care and ongoing supervision.
Handouts are online HERE
About the speaker: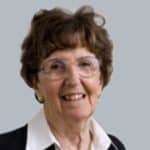 Margaret Bauman, M.D., is a pioneer in the study and treatment of Autism and is highly respected by her fellow clinicians and patients for the level of clinical care she provides and the advances that she has contributed to in the field. Dr. Bauman is a Neurologist and specializes in the diagnosis and treatment of Autism and various neurological disorders in children, adolescents, and adults to include learning and developmental disabilities, seizures, cerebral palsy, and neurogenetic disorders. Dr Bauman is the founding director of the LURIE CENTER, formally called LADDERS (Learning and Developmental Disabilities Evaluation and Rehabilitation Services). Dr. Bauman also established The Autism Research Foundation (TARF), The Autism Research Consortium (TARC), and The Autism Treatment Network (ATN). She has also made significant laboratory research contributions in the neuroanatomical understanding of Autism.