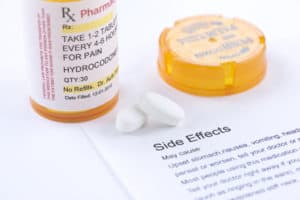 Dr. Bernard Rimland, the founder of ARI, would be enormously gratified that more and more parents are learning that "Autism is Treatable." However, not all treatments are created equal; most commonly prescribed drugs have side effects that range from minor to severe to potentially fatal.
One of our goals at the Autism Research Institute (ARI) is to inform parents of the efficacy of various treatments for individuals with Autism Spectrum Disorder (ASD). ARI urges all practitioners to inform their patients about the possible adverse effects associated with every treatment that they recommend.
The lists of drugs and supplements below contain links to documents as well as other information about possible adverse effects. Many on the spectrum suffer from seizures or are prone to seizures, and many of the drugs commonly prescribed to these people may lower the threshold for having seizures. We have also listed those drugs that are associated with seizures along with a link.
If your son/daughter experiences side effects from taking prescribed medications, please contact the FDA at: MedWatch . Since supplements may also lead to side effects, please report them to: Dietary Supplements – Adverse Event Reporting. You can also call: 1.800.FDA.1088 (1.800.332.1088) to report adverse effects associated with prescription drugs and supplements.
In addition, parents can learn more about possible side effects, as well as benefits, associated with various treatments by reviewing the results from our parent treatment survey. The survey findings are based on over 27,000 responses, and include a large number of biomedical interventions, including drugs, nutritional supplements, and diet; of course, there is a selection bias in any survey.
Yes, autism is treatable, but it is the responsibility of the parent, working with the practitioner, to find the most efficacious and safest treatment for their child.
Adverse Reactions: Prescription/OTC Medications
Acetaminophen (depletes glutathione levels)
https://www.ncbi.nlm.nih.gov/pubmed/22781167
Adderal (amphetamine and dextroamphetamine)
May increase seizures, click here
Amphetamine — See Adderall and Ritalin
Anafranil (clomipramine)
https://www.drugs.com/sfx/anafranil-side-effects.html
May increase seizures, click here
Atarax (hydroxyzine, Vistaril)
https://www.webmd.com/allergies/guide/antihistamines-for-allergies
https://www.drugs.com/sfx/atarax-side-effects.html
May increase seizures, click here
Benadryl (diphenydramine)
May increase seizures, click here
Buspar (busipirone)
May increase seizures, click here
Cannabis Sativa
WebMD – Cannabis Sativa Side Effects
Chloral hydrate (Noctec)
https://www.drugs.com/ppa/chloral-hydrate.html
Clonidine (catapres)
https://www.drugs.com/sfx/clonidine-side-effects.html
Clozapine (clozaril)
May increase seizures, click here
Cogentin (benztropine)
https://www.drugs.com/sfx/cogentin-side-effects.html
Cylert (pemoline)
https://www.drugs.com/mtm/cylert.html
Depakene (valproic acid, Depakote)
https://www.drugs.com/sfx/depakene-side-effects.html
Desipramine (Norpramin)
May increase seizures, click here
DMSA (DL-2,3-dimercapto-succinic acid)
https://www.drugs.com/pro/dmsa.html
https://www.leaf.tv/articles/oral-chelation-therapy-side-effects/
DMPS (2,3-dimercapto-1-propane-sulphonic acid)
May increase seizures, click here
EDTA (Ethylenediaminetetraacetic acid)
https://www.webmd.com/vitamins/ai/ingredientmono-1032/edta
May increase seizures, click here
Effexor (venlafaxine)
May increase seizures, click here
Felbatol (felbamate)
May increase seizures, click here
Fenfluramine (Pomidin)
https://www.ncbi.nlm.nih.gov/pubmed/3543069
Geodon (zipasdone)
May increase seizures, click here
Halcion (triazolam)
https://www.drugs.com/sfx/halcion-side-effects.html
Haldol (Haloperidol)
https://www.drugs.com/sfx/haldol-side-effects.html
https://www.webmd.com/drugs/2/drug-5419/haldol-oral/details
https://whatmeds.stanford.edu/medications/haloperidol.html
May increase seizures, click here
Hyperbaric Oxygen Therapy
Johns Hopkins Medicine – HBOT Side Effects
May increase seizures:
https://www.ncbi.nlm.nih.gov/pubmed/12611573
ncbi.nlm.nih.gov/pubmed/21192190
ncbi.nlm.nih.gov/pubmed/18342297
IVIG (Intravenous Gamma Globulin)
q=fluvoxamine&uid=789633250&setcookie=yes
https://www.drugs.com/cons/vaccinia-ivig.html
https://ukpmc.ac.uk/abstract/MED/8260119
https://content.karger.com/ProdukteDB/produkte.asp?Aktion=ShowAbstractBuch&ArtikelNr=56085&ProduktNr=228200
Klonopin (clonazepam)
https://www.drugs.com/klonopin.html
May increase seizures, click here
Lithium (Lithobid)
May increase seizures, click here
Luvox (fluvoxamine)
May increase seizures, click here
Mellaril (Thioridazine)
https://whatmeds.stanford.edu/medications/mellaril.html
May increase seizures, click here
Naltrexone (naloxone)
https://www.drugs.com/sfx/naltrexone-side-effects.html
Paxil (paroxetine)
May increase seizures, click here
Phenergan (promethazine)
https://www.drugs.com/sfx/phenergan-side-effects.html
May increase seizures, click here
Phenobarbital (Luminal, Solftoton)
https://www.drugs.com/sfx/phenobarbital-side-effects.html
Prozac (fluoxetine)
https://www.drugs.com/sfx/prozac-side-effects.html
May increase seizures, click here
Risperdal (risperidone)
May increase seizures, click here
Ritalin (methylphenidate)
May increase seizures, click here
Secretin
https://www.webmd.com/vitamins-supplements/ingredientmono-186-SECRETIN.aspx?activeIngredientId=186&activeIngredientName=SECRETIN
Seroquel (Quetiapine)
Stelazine (trifluoperazine)
https://www.rxlist.com/stelazine-drug.htm
May increase seizures, click here
Tegretol (carbamazepine)
https://www.drugs.com/sfx/tegretol-side-effects.html
Tofranil (imipramine)
https://www.drugs.com/pdr/tofranil.html
May increase seizures, click here
Transfer Factor
wikipedia.org/wiki/Transfer_factor
WebMD – TF Side Effects
Valium (diazepam)
https://www.drugs.com/sfx/valium-side-effects.html
https://www.ncbi.nlm.nih.gov/pubmed/2826308
Zarontin (ethosuximide)
https://epilepsy.emedtv.com/zarontin/zarontin-side-effects.html
Zoloft
https://epilepsy.emedtv.com/zarontin/zarontin-side-effects.html
Zyprexa (Olanzapine)
Adverse Reactions: Supplements