Certificates of participation are available upon successful completion of a brief knowledge quiz: HERE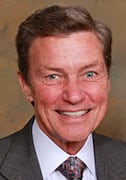 Robert L. Hendren, D.O., is Professor of Psychiatry and Behavioral Science; Director of Child and Adolescent Psychiatry; Director of the Autism and Neurodevelopment Program, Co-Director of the Dyslexia Center and Vice Chair of the Department of Psychiatry at the University of California, San Francisco. From 2001-2009, he was Professor of Psychiatry and Executive Director and Tsakopoulos-Vismara Chair at the University of California, Davis M.I.N.D. Institute (Medical Investigation of Neurodevelopmental Disorders). Dr. Hendren is Past President of the American Academy of Child and Adolescent Psychiatry (2007-2009). He has published over 100 scientific papers and 4 books and has been listed in "The Best Doctors in America", each year since it was first published in 1996.
Dr. Hendren took his residency in general psychiatry at the Mayo Graduate School of Medicine, and his child and adolescent psychiatry fellowship at the Yale Child Study Center. He is board certified in General as well as Child and Adolescent Psychiatry.
His current areas of research and publication interests are translational clinical pharmacology and nutritional trials using biomarkers (MRI, measures of inflammation, oxidative stress, immune function and pharmacogenomics) in neurodevelopmental disorders.